Emergency Dentist – Concord, NH
Call Us When You Need Help
Are you faced with a chipped tooth? Did you accidentally lose your dental crown? Do you have a broken denture? No matter the problem or injury, you can always call our Charm Smile Dental team for help. Our caring emergency dentist in Concord, NH, Dr. Homsi, and our dental team are here to deliver timely care using an array of restorative dental services. With high-tech digital imagery and diagnostics, we can readily identify the problem area and use advanced solutions to repair and improve your smile.
Why Choose Charm Smile Dental for Emergency Dentistry?
Sedation Dentistry Available
Dental Office Serving the Community for 30+ Years
Capable of Addressing Complex Dental Issues
How We Treat Dental Emergencies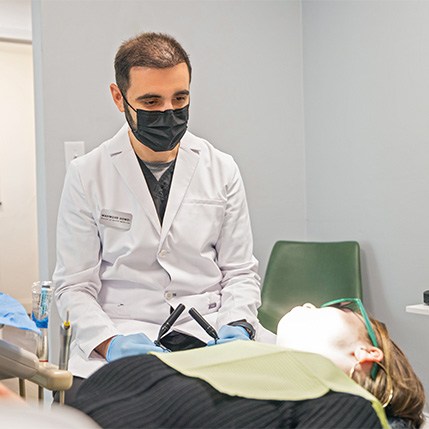 Call to schedule an appointment – When faced with a dental emergency, you should call our office to schedule an appointment. Based on your situation, a member of our team will work quickly to get you in as well as offer helpful tips to manage the pain while you're at home.
Undergo a thorough examination – After careful examination and diagnostic imaging, your emergency dentist will identify the area of concern.
Review findings – Compiling all the necessary data, we will create a personalized treatment plan that details how we plan to address your emergency as well as how much you can expect it to cost.
Provide timely care – Once you agree to the proposed plan, we will get to work to get you out of pain before fixing your smile.
The Most Common Dental Emergencies
Not all dental injuries warrant a visit to the emergency dentist's office; however, if you're ever unsure, it's best to call and speak to a member of your dental team. We can determine the severity of your injury and decide whether you should come in right away or wait. Below, you will find a list of the most common emergencies we treat and how you can handle the situation while at home.
Keys to Preventing Dental Emergencies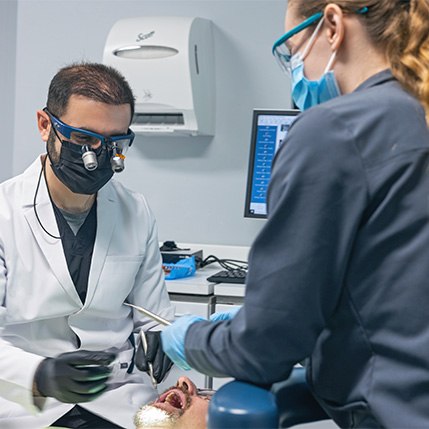 Although you can turn to our team at Charm Smile Dental for all of your dental needs – including last-minute care – we completely understand that you want to avoid this situation at all costs. After all, if you could avoid a stressful, painful injury, wouldn't you? The good news is that there are several ways you can dramatically reduce your risk. Read on to learn what they are!
Visit Your Dentist Biannually
Your biannual visits to our Concord emergency dentist are designed to prevent serious decay, large chips, painful fractures, and the like. That's why we start each visit with detailed X-rays and a thorough exam; we want to catch and treat oral health problems in the early stages. Plus, we use special tools during your cleaning to remove plaque, tartar, and other debris your toothbrush and floss missed, helping prevent cavities and gum disease from developing in the near future.
Maintain Good Oral Hygiene At Home
Of course, keeping your smile healthy between your routine dental appointments is of the utmost importance as well. That starts with using a soft-bristled toothbrush and fluoridated toothpaste to brush twice a day (for a full two minutes each time). Additionally, you should floss and rinse with an antimicrobial mouthwash daily. If you ever need recommendations on which products to use or you want a refresher on proper technique, don't hesitate to ask – we can help!
Stick to a Nutritious Diet
Since sugar is one of the leading culprits of tooth decay, we recommend keeping your intake of soda, ice cream, and other sweet treats to a minimum. Fortunately, there are plenty of smile-friendly and delicious foods you can add to your diet to keep you full and satiated! Cooked sweet potatoes, fresh fruits, sauteed vegetables, and lean proteins are a few examples.
Note: Don't chew on any non-food items, like ice cubes or pen caps – this is one of the easiest ways to fracture your teeth!  
Wear a Mouthguard
Do you participate in sports? If so, then you need to take proactive measures to protect your smile, like wearing a mouthguard. This will help prevent knocked-out teeth, soft-tissue injuries, and the like. We also encourage our patients to avoid drinking sports drinks that are loaded with added sugar. Again, this can dramatically increase your risk of developing tooth decay and, in turn, a serious dental injury.
Use Tools to Open Packages, Not Your Teeth
From using their mouth to hold their keys to using their teeth to remove a bottle cap, people use their teeth as tools all the time. It's also one of the most common reasons patients come to visit our Concord emergency dentist! To prevent your morning or afternoon from turning into a day at the dental office, avoid using your teeth as tools.
Understanding the Cost of Emergency Dentistry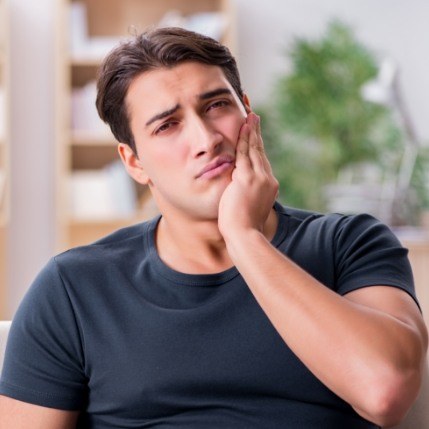 It's very common for patients to feel some nervousness surrounding the cost of their care, especially last-minute, emergency dentistry. Please know that our entire team at Charm Smile Dental is here to help – we want your experience to be smooth and stress-free! That's why we provide estimates of the cost upfront and are here to answer any questions you have throughout the treatment process. You can also read on for some important cost-related information.
Every Dental Emergency is Different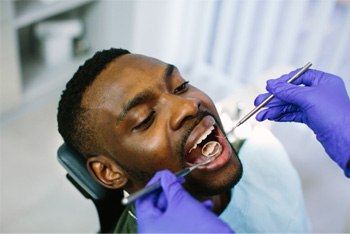 It's true; every dental emergency is different. That's why it takes some time to determine an accurate estimate! First, Dr. Homsi must conduct a thorough examination of your dental injury. Then, you both will review the treatment options available and determine which one is best before reviewing the available financial solutions, like dental insurance. Across the board – whether you need a small filling or a tooth extraction and replacement – we will do what we can to make navigating the cost of your emergency dental care easy.
Does Dental Insurance Cover Dental Emergencies?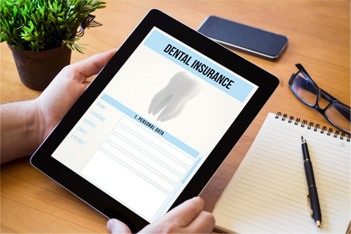 Are you currently insured? Then you'll be happy to know that we're in-network with Delta Dental and welcome a wide range of PPO plans. As a result, we can work with you to get the most out of your plan as well as discuss additional financing options should you need them. Again, even if we are not in-network with your insurance company, we will still file any claims to help you receive your maximum reimbursement. With us, utilizing your available benefits is easy!
Other Options for Making Dental Emergencies Affordable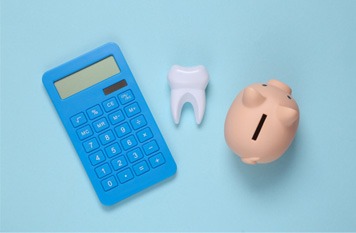 If you don't have dental insurance, don't worry – that doesn't mean that your treatment will break the bank. We're proud to welcome third-party financiers, such as CareCredit and Lending Club. As a result, you don't have to pay for your entire bill at once. Instead, you can choose a payment plan that spreads the total cost out over the course of several months, sometimes with little-to-no interest attached too!
How Taking Care Of Your Smile Can Save You Money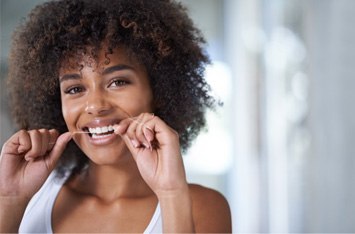 Of course, some dental emergencies, like a knocked-out tooth, aren't entirely avoidable. After all, accidents happen! There are, however, several measures you can take to protect your smile from harm, starting with wearing a mouthguard during sports, avoiding smoking and other unhealthy habits, and visiting us twice a year for a checkup and cleaning. Additionally, you should commit to a solid oral hygiene regimen at home to keep your smile decay and infection-free. These measures may seem small, but together they can protect your teeth and gums from serious harm that necessitates same-day treatment.
Dental Emergency FAQs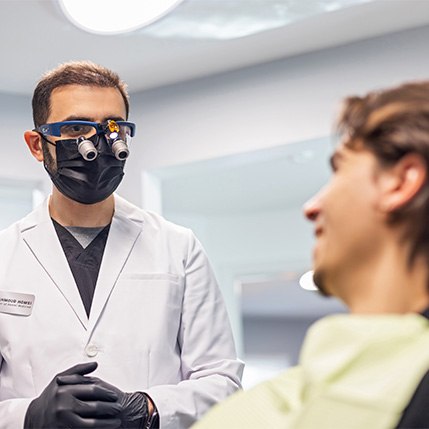 It's no secret that dental emergencies can be overwhelming to handle. While you may never feel fully prepared, knowing as much as possible about what to do can make the experience significantly less stressful. That's why we've dedicated this section to answering common questions about dental emergencies!
Will my toothache go away on its own?
If you've been crossing your fingers in hopes that your toothache will go away on its own, it's important to know that oral health issues like decay and infections cannot heal without professional treatment. The best way to restore your pain-free smile and save yourself from costly treatment is by scheduling an appointment with our Concord emergency dentist ASAP. The sooner you do, the sooner we can administer the necessary restorative care, improving the look, health, and function of your smile.
How should I sleep with tooth pain?
If you weren't able to come in for same-day treatment, then it can be helpful to know how to get a good night's sleep with tooth pain. One of the best things you can do is keep your head elevated by propping yourself up on some pillows. This will prevent blood from rushing to your head, which can result in an uncomfortable, throbbing pain. It's also a good idea to not eat anything especially crunchy for dinner and to take an OTC pain reliever about 30 minutes before going to bed.
What is causing my jaw pain?
Jaw pain could be the result of everything from an impacted wisdom tooth to chronic jaw pain and TMD disorder. If you've been struggling with discomfort stemming from your jaw for more than 24 hours now, then it warrants a call to our Concord dental office. That way, we can pinpoint the cause and review all of the treatment options available to give you the long-lasting relief you're looking for.
Should I visit the emergency room first for dental emergencies?
If you're experiencing potentially life-threatening symptoms in tandem with your dental injury, then the answer is yes. Trouble breathing, uncontrollable bleeding, and difficulty swallowing all require medical attention, and you should visit the ER right away. However, if you aren't experiencing potentially life-threatening symptoms, then you should not go to the ER since hospitals don't typically have a dentist on-staff. Instead, call our team ASAP. From there, we can schedule an appointment and walk you through how to handle your dental injury until you arrive.
Can I pop a dental abscess on my own?
No, you should never pop a dental abscess on your own! Doing so can expose your mouth, neck, and throat to bacteria that can result in further irritation. The best thing to do if you have a dental abscess is to call us.
What does chronic bad breath mean?
Chronic bad breath can result in a lot of embarrassment. If it's the result of an unhealthy dental habit, like smoking, or pungent foods, like garlic, then steering clear of them may be all that's needed to freshen your breath. However, if the odor persists or doesn't seem to be the result of something you've eaten, then give our team a call so we can see if an untreated oral health concern is the cause.