Dental Implants – Concord, NH
Replacing Your Missing Teeth For Good
Dr. Homsi understands the struggles of those suffering from tooth loss. As a highly skilled professional who has studied implant dentistry in various countries, he is able to provide dental patients with the complete start-to-finish placement and restoration process in-house, so no referral is needed. By offering this superior solution, he can replace your missing teeth for good, allowing you to feel more confident and beautiful while also enjoying the benefits of a healthy, fully functional smile. Call to schedule an appointment to find out if you are a good candidate for dental implants from our Concord, NH dentist.
Why Choose Charm Smile Dental for Dental Implants?
Start-to-Finish Dental Implant Placement & Restoration
Dentist with 10+ Years of Experience
Cone Beam Scanner for Optimal Precision Planning
What are Dental Implants?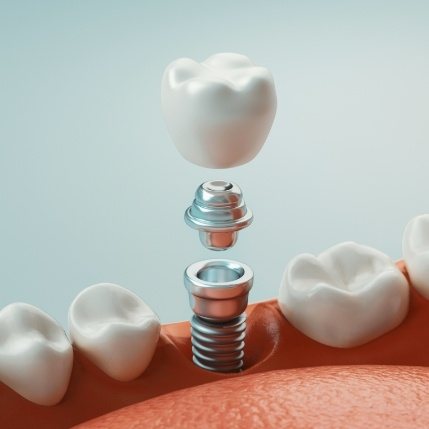 Dental implants are small, screw-like posts made out of titanium and placed within the jawbone. Fusing with the nearby tissues over several months creates a stable foundation for your future smile. These prosthetics are versatile in their ability to replace any number of teeth, allowing for dental crowns, bridges, and dentures to be properly secured into place.
Dental implants are also known for their longevity. With many cases reported of individuals who enjoyed their new smile for a lifetime, they prove more cost-effective than other tooth replacement solutions.
The 4-Step Dental Implant Process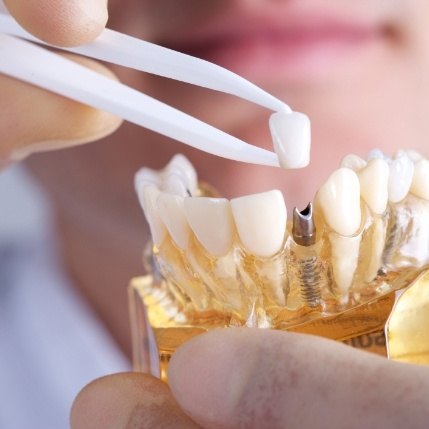 Initial Dental Implant Consultation: You will start the process by first meeting with your implant dentist to discuss your candidacy. After compiling your results, we will determine if you require any preliminary treatments such as bone grafting, tooth extraction, or periodontal therapy before moving forward with your dental implant placement.
Dental Implant Surgery: Instead of relying on an outside specialist to perform the procedure, Dr. Homsi will complete the process in-house so that you can remain in one convenient location. On the day of your procedure, you will receive local anesthesia to ensure you remain comfortable before Dr. Homsi makes one or more small incisions in your gums for proper placement and alignment of your implant posts.
Dental Implant Osseointegration/Abutment: You will return home after your surgery to begin the recovery process, which involves 3-6 months of the bone fusing with your implants. This is known as osseointegration. Once healed, you will return to have your metal abutments attached to the tops of your posts.
Delivery of Dental Implant Restoration(s): Once everything is properly healed, you will make your final visit to receive your customized dental implant restoration. Depending on how many teeth you are missing, you can receive a crown, bridge, or denture. No matter the kind of restoration, you can ensure that your new smile will look and feel completely natural.
Benefits of Dental Implants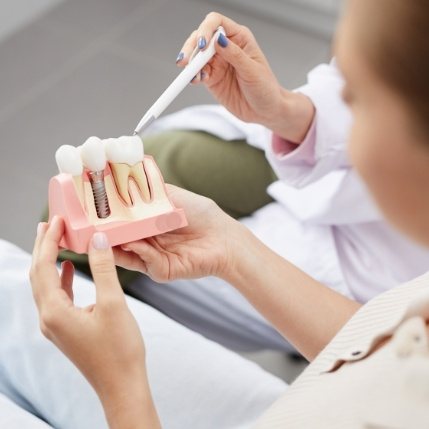 There are endless benefits associated with dental implants, and we believe it is important that you have a clear understanding of what you can expect when choosing dental implants. Some of the most common advantages include:
Better jawbone stimulation thanks to the titanium posts that act like tooth roots, helping to minimize the potential for facial collapse or sagging
Improved oral health because dental implants help to encourage better oral hygiene at home
Reduced risk of systemic issues commonly associated with tooth loss (i.e., osteoporosis, heart disease, and diabetes)
The ability to eat your favorite foods without fear of your teeth slipping or falling out
Teeth that have the potential to last a lifetime with optimal care and maintenance
Who Dental Implants Can Help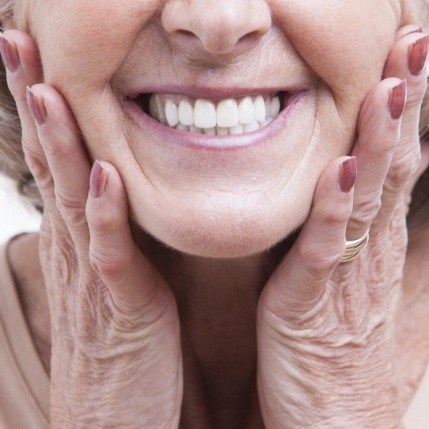 Most individuals who are suffering from tooth loss are often considered viable candidates for dental implants. The reason is that although many may not be ready to pursue dental implant placement right away, our team can perform necessary treatments beforehand to help move them closer to permanent prosthetics in the future. When meeting with Dr. Homsi, he will determine if you need additional dental care before undergoing implant surgery. He will also discuss the type of restoration you will need and the versatility this type of tooth replacement can provide.
Missing One Tooth
With more than 120 million people in the U.S. missing at least one tooth, this is a growing problem. Fortunately, with a single titanium implant post, metal abutment, and customized dental crown, we can easily replace the missing tooth, delivering greater aesthetics and functionality.
Missing Multiple Teeth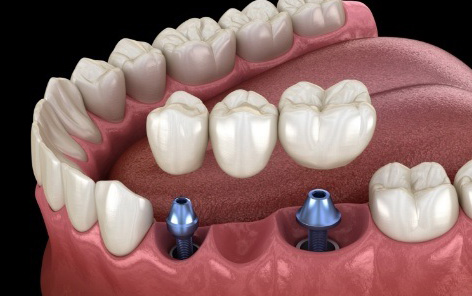 Instead of relying on healthy abutment teeth, which are needed for a fixed bridge, we can place two dental implant posts into the outer sockets before attaching a customized bridge into place. Not only does this leave your healthy tooth enamel alone, but it also eliminates the risk of dental drift caused by tooth loss.
Missing All of Your Teeth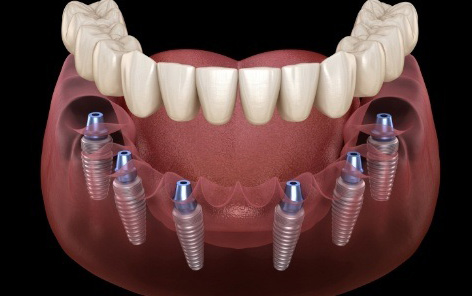 Traditional dentures may be an option, but if you want new teeth that won't slip or fall out, you cannot go wrong with implant dentures. Held into place using between 4-6 implant posts, these prosthetics deliver improved stability, greater confidence when it comes to eating and speaking, and the ability to enjoy your smile for decades to come.
Understanding the Cost of Dental Implants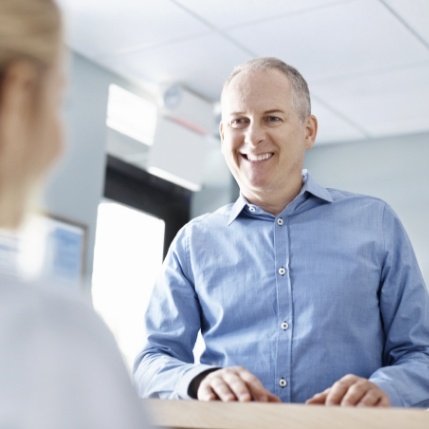 To understand the cost of dental implants, you must schedule a consultation with Dr. Homsi. It is during this visit that he will go over all his findings and determine the various factors that will ultimately attribute to your cost breakdown. Based on the number of dental implants you will need, the type of material used to create them, and their ability to last a lifetime, we will formulate an estimate for you to review. Our team will also go over available payment options, including dental insurance and flexible financing.